Change of Perspective!
April 5th-7th, 2018
Please scroll a bit to check the schedule !!
Welcome to the Düsseldorf ECISPE 2018 homepage.
The team in Düsseldorf invites you all to join us in considering a 'CHANGE OF PERSPECTIVE'. Our theme this year was inspired by one of the city's most iconic symbols, the Radschläger.....every time you turn around here, you will find images or sculptures of joyful cartwheeling children! The exact origin of the cartwheel's significance remains unknown to this day, but we have chosen it to represent our theme/conference because it reminds us to share our passion for our subject every day, and to always look at challenges/changes in new and different ways!
Come join us in our beautiful city along the Rhein, and perhaps dust off your best cartwheel - we look forward to seeing you in April 2018! Stay tuned for more information...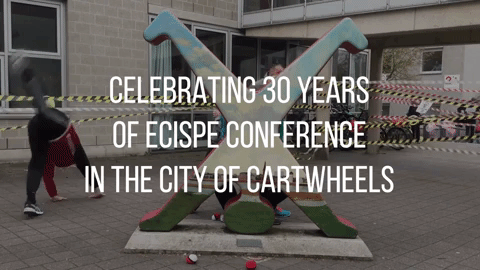 Keynote Speakers
A Community filled with Physically Literate People
Change of Perspective through PlayChange of Perspective through PlayChange of Perspective through Play
Infos about the conference city